The Perth Spectres raise $4,500 for three charities who help LGBTQI+ Western Australians and they had a BALL doing it!
---
On May 15, 2021 the Perth Spectres Basketball Club held their inaugural Basket-BALL. A fabulous event that saw 207 members of the LGBTQI+ community, allies and family, dress-up glamorously, enjoy drinks and fine dining, entertainment and shake everything they have on the dance floor.
We spoke to Justine Barnes, the Social & Fundraising Manager for Perth Spectres, about his highlights on the night:
"For me, the highlight of the night was seeing the excitement people had for the event. Guests walked in with big eyes, big hearts and smiles. They dressed to impress, more than I ever thought they would. All of this was incredible, it was the sense of community and spirit that really made the night spectacular."
It wasn't just about having a great time though, they also had the goal to raise money for three important charities that help Western Australians. Through sponsors, ticket sales, a silent auction and a good ol' raffle, the Perth Spectres managed to raise a whopping $4,500 – Congrats!
Justin said, "As an inclusive club we wanted to showcase all the types of people that are important to us. Age is no barrier. Sexuality is no barrier. We wanted the Basket-BALL to be all inclusive for all and give back to some incredible organisations."
"I can't believe that the raffle SOLD OUT! We will in the future be over prepared with additional raffle tickets. The fact our raffle sold out so fast was a testament to the incredible attendee's who were digging deep - thank you!"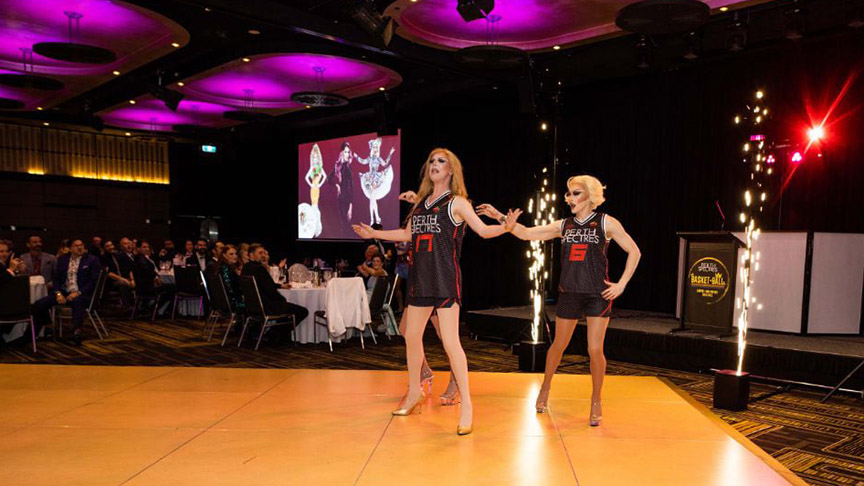 "We loved having Alexas Armstrong, Donna Kebab and Fay Rocious. They got the community out of their chairs laughing and dancing along to some spectacular performances."
– Justin Barnes, Social & Fundraising Manager
---
Perth Spectres donated $1,500 each to Transfolk of WA, The Pinnacle Foundation and GRAI. Please take the time to check out these important organisations.
Transfolk of WA
Informing, empowering and advocating for trans and gender diverse people and their loved ones to survive and thrive through peer support in Western Australia.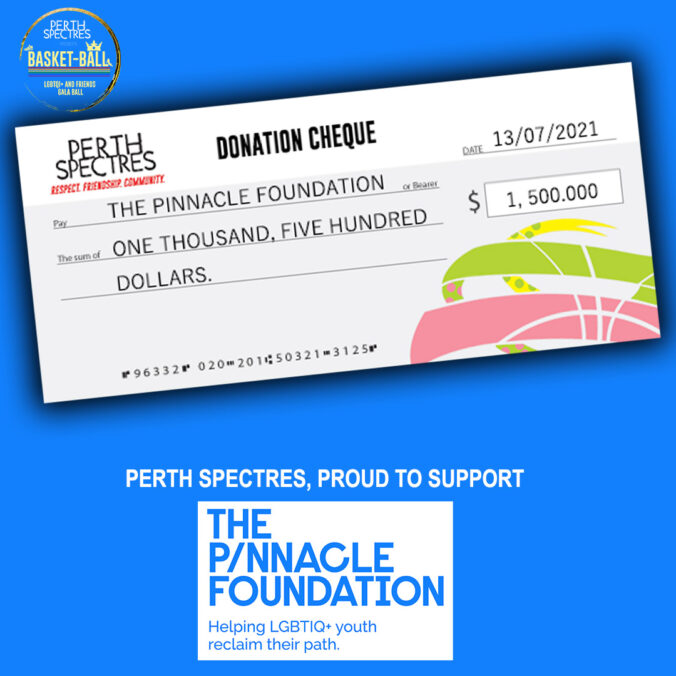 The Pinnacle Foundation
Educational scholarships, mentoring and opportunities for young LGBTIQ+ Australians to realise their full potential and overcome challenges arising from their identity.
GRAI – GLBTI Rights in Ageing Inc.
A voluntary group that works to enhance the quality of life for GLBTI elders, focusing on improving GLBTI awareness in aged care services (both residential and community care). They also aim to promote healthy ageing and social inclusion for older GLBTI people through a range of events and projects.
About the Perth Spectres Basketball Club
The Perth Spectres are Perth's first fully LGBTQI+ inclusive basketball club. They believe that no matter who you are, you should have the opportunity to enjoy playing basketball and to be part of a welcoming and safe community. 
The Perth Spectres are a club that caters for players who want either (or both) a social community experience or a competitive basketball experience. They pride ourselves on creating the safest and most welcoming environment they can, and are a club built on the premise of community first, basketball second.
Well done Perth Spectres and we all look forward to your next Basket-BALL! Save the date for May 14, 2022!