Executive Officer for GLBTI Rights in Ageing (GRAI), Kedy Kristal, 67, passionate advocate, long-time volunteer, and supporter of our community and the wider society across many important initiatives.
---
Meet Kedy:
Hi, I'm Kedy (she/her)
I've had the privilege of living and working on Noongar boodjar for over 45 years. I was born and spent my childhood in Aotearoa New Zealand.
I have been working at GRAI since April 2021, first as the training coordinator and now as EO.
GRAI delivers training to the community services sector on LGBTI inclusivity, organises social events for older LGBTI community members and has established the Befriender program as part of the GRAI Village Hub.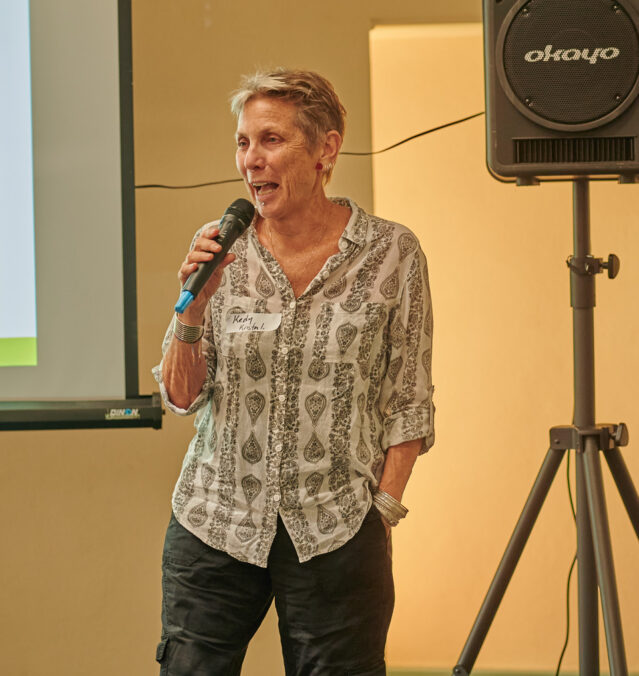 I've always identified as a dyke – to me it says, strong political activist.
Can you please tell us how you identify?
I identify as a Dyke, a label not often used in the spectrum. My name is an anagram of dyke.
---
Are labels helpful and important to you?
Labels can be both useful and pigeonholing. They can signal quickly to others via badges, T- shirt slogans etc a connection, a safe person, they can be inclusive but they can also be used to force conformity and squash individuality.
---
Do you think disclosing your identity is easier now than when you first came out?
Yes it is since I started delivering LGBTI training sessions in 2020, I've had lots of practice.
Outside of work I still have moments of not disclosing, sometimes I just can't be bothered using the energy required to educate some people.
---
This week is Lesbian Visibility Week. Do you think visibility is important? Whether in our community and or wider society?
Lesbian visibility is very important, we are everywhere and often heterosexual /cisgendered people just don't see us. I would love to have more recognition for all those school teacher/principals and hospital matrons, all those women who never married and had careers so many were lesbians as up to the early 70's all the married heterosexual women had to leave the workforce.. Also recognising that many married women were actually lesbians and it wasn't until feminism of the 70's made it possible for them to leave their marriages.
---
Can you tell us a bit about the things you do that bring that visibility to our community and or to the wider society?
1991-93 – I was the co-editor and producer of The Laughing Medusa a bi monthly lesbian magazine in Perth. We fundraised to produce the magazine as subscriptions weren't enough.. by running lesbian events/ dances in nightclubs across Perth including Connections and the lesbian Olympics one weekend at Perry Lakes stadium.
1996-97 – Started the Outing Sexual Assault and Domestic Violence in the GLBTIQ community committee
2005 – Chair of Same Sex Domestic Abuse group. Government funded organisation
2017-ongoing – Chair of Standing Shoulder to Shoulder Inc. (Supports women and LGBTI people who have experienced Intimate partner violence)
2019-ongoing – Member of the SHQ (Sexual Health Quarters) GLBTIQ advisory group
2021-ongoing – Member of City of Perth LGBTQIA+ Advisory group
Voluntary positions
1999-ongoing – Justice of the Peace
2008-ongoing – Office of the Inspector of Custodial Services Independent. Prison visitor
2017-ongoing – Court Welfare worker. Perth Magistrates Court
---
Thinking about our elders and through your work at GRAI, how important is this aspect of their identity?
Many older LGBTI people have been out for most of their life, they may not have been an activist in the public domain but have been part of a LGBTI community and have established a LGBTI family/friends network, as they grow older this network can be reduced and many older LGBTI people become socially isolated and fearful of being forced back into the closet if they require age care in their home or accommodation in a nursing home.
Being visible as a LGBTI person in an environment that is heteronormative and not welcoming to LGBTI people is a traumatic experience for anyone, but is particularly stressful for an older LGBTI person in need of care.
---
In GRAI's April Newsletter there are a few initiatives to connect our elders with the community. Can you tell us more about those and your newly launched Befriender Program?
GRAI's Village Hub is led by and for older LGBTI people, offering multidimensional peer support and service development for the community. An LGBTI Elders' Advisory Group has been established to advise on the Hub activities, and LGBTI Elders will help provide a one-on-one befriending service for vulnerable and isolated individuals.
Befriending is a structured relationship between a befriender and a befriendee that
is initiated and supported by the GRAI Befriender program, as part of the GLBTI Village Hub project.
Befriending relationships aim to be non-judgemental, supportive of the befriendee and confidential. The befriender supports the befriendee to choose how they share their experiences, views, and interests with the befriendee.
Having fun is an important part of the relationship.
Befrienders are carefully matched with a befriendee and visits are usually 1-2 hours, once a week. Visits can be at the befriendee's home, or at community venues.
For more info about the Befriender Program, how to become a Befriendee or a Befriender read GRAI Matters - April Newsletter.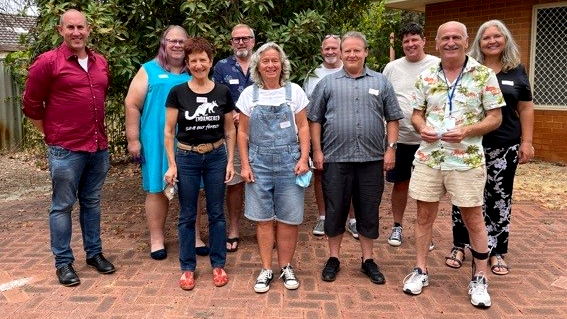 ---
Lastly, what LGBTQIA+ Events in Perth should we look out for?

GRAI and Living Proud will be hosting Better Together: LGBTQIA+ Volunteering
What: An intergenerational event for National Volunteer Week 16-22 May 2022 – Join in some easy volunteering activities and meet like-minded others.
When & Where: Saturday 21 May 10am-12.30pm, at Southcare Hall, 19 Pether Rd, Manning
Guest speakers:
Minister Hon Stephen Dawson MLC – Minister for Emergency Services; Innovation and ICT; Medical Research; Volunteering
Sarah Collins from Living Proud who will present on a range of great online volunteering options.Morning tea provided
---
Find out more about GRAI: